a look back at the defining moments of the year
Another year has passed by, one that has seen the 19th birthday of the Team Fortress franchise and the 8th birthday of Team Fortress 2 - both seemingly very old by modern standards. Despite its age, however, Team Fortress 2 and its moderate competitive scene still had several surprises in store for its fans and participants, as well as many hopes for the future. Without further ado, let's look over what defined the year and made it so interesting.
Gentleman's Game
In 2014, community member CHERRY announced the development of Saloon.tf. The site entered public testing to begin the year, and soon became a hub for betting on a wide spectrum of matches as the year progressed. Months later, CHERRY announced that he would be stepping away from Saloon.tf, leaving it in the hands of Geel9, who had acquired it. This led to a full rewrite and relaunch of the site, correcting many problems with the site and increasing its capacity to handle a large volume of traffic and betting activity. It continues to be a popular hub, bringing many new fans into competitive.
From Anger, Progress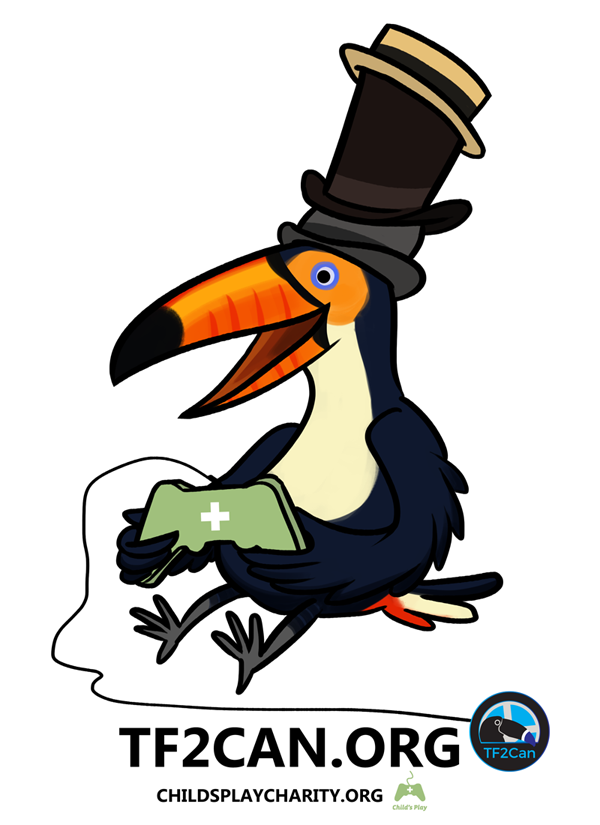 Mid-March marked a high point for competitive TF2 very different from some of the others. The community was upset to find a connection between a then-upcoming charity event, Flares That Care, and a pair of dubious scammers. As a result, the event was quickly cancelled, with the scammers absconding with the community's virtual item donations and goodwill. Fortunately, however, that discovery became a catalyst for one of the best feel-good moments ever experienced by the TF2 community. From the ashes of the pyro-themed event rose a vastly superior charity marathon: TF2can. Organized initially over the course of only six hours, the event went live on the same day Flares That Care planned to start and ran nonstop for a full weekend. Featuring surf and jump races, competitive showmatches, late night pubs, and much more, the event raised over $9,000 for Child's Play—almost 10 times the goal Flares That Care set.
Collateral Damage
In April, ESEA Season 18 concluded with the traditional LAN finals for the Invite division. froyotech came out on top in the weekend's clash, having bested a suddenly resurgent Team eLevate in the grand finals to take their third straight ESEA LAN title. Unbeknownst to most, however, this LAN would be the last one of its kind. Just over a week later, ESEA announced that they had entered into a partnership with ESL to create the ESEA ESL Pro League with an unprecedented $500,000 prize pool per season. The unfortunate implication of this news, however, was the end of the seasonal ESEA LAN in Texas in favor of LANs hosted in ESL studios. This represented the end of the only frequent top-level LANs in the entire scene—a grave loss which is still being felt today.
A New Hope
It was at the end of April, when the scene's morale seemed to be at an all-time low, that plans for one final effort to save the scene were coming into focus unbeknownst to many. A sampling of top community representatives had contacted Valve with a plea for greater support. Eventually, Valve did respond asking a prioritized list of requests, which was provided to them. They then invited a delegation to come and meet with them. Five community representatives went ahead and met with them for an afternoon, and came back with the unexpected news that Valve had already been planning much broader support of the scene, including fulfilling the requests that had been sent to them. Needless to say, this reinvigorated the scene and sent hype to an all-time high, even going so far as to stay the execution of North America's premier league.
Foreign Concepts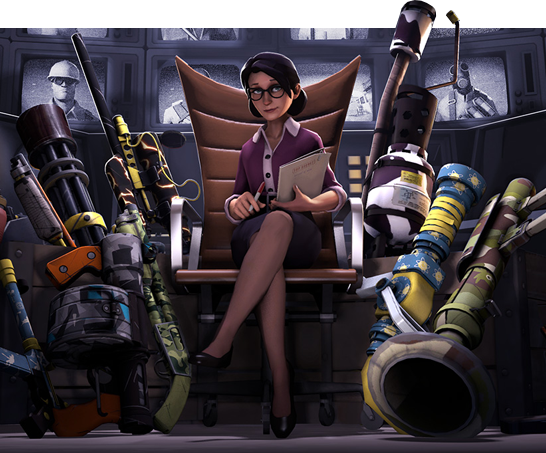 Major updates were no stranger to TF2, even so long after the game's release, and the trend would continue. In July, the Gun Mettle Update was released as the first major update of 2015. It brought with it the tried and true concepts of weapon skins, contracts, campaign coins, and event passes from Counter-Strike: Global Offensive. Besides these foreign concepts, the update also contained new taunts, new maps, and a major balance patch. Reactions to the update were understandably mixed, with some hailing it as a reinvigoration of the game and others decrying its adoption of features from Counter-Strike.
Conflicts Emerge
In July, the scene's main competitive lobby website, TF2Center, came under harsh criticism. Among other transgressions, it was revealed that the site had asked Highlander LAN DeutschLAN to bar a former staff member from attending as part of its sponsorship. The resulting drama was handled very poorly by the site, leading much of its staff to be fired or resign voluntarily. As a result of this and a call for a new site, members of the community formed a group to develop TF2Stadium, intended to be an open source alternative. The new site has gone into closed alpha and is slated for release in the coming year, where it will face strong competition across the spectrum.
Unexpected Opportunities
Late in the summer, Razer announced that it had expanded its new tournament platform Razer Arena to support TF2. Designed to be the ultimate tournament host, the platform included everything necessary to host a tournament, from registration to brackets and game servers. The service was introduced to players by weekly $100 tournaments hosted by developer Gaming Grids, in which players were able to report any bugs and gain experience with the new platform. Later, Razer sponsored several tournaments with significant prizes, including the Challengers Cup, The Fall Classic, and Game Sense Monthly Madness. This platform has thus become a fixture in competitive TF2, and will certainly be seen more in the future.
From Heroes to Legends
Once again, England played host to an intercontinental tournament between top teams of the world in August at Insomnia55. This year, reigning title holder froyotech looked to defend its title from challengers, including regional competitor Ascent and top European sides like Reason Gaming. In one of the tightest tournaments ever seen, froyotech recovered from the brink of elimination to defeat Reason Gaming and then nerdRage.tf2 in the finals to secure a repeat title and ensure its place in the record books as the greatest team to ever play the game.
Setting New Records
By now an annual tradition, Tip of the Hats came back in September. This year was special: while still a 36-hour stream event with guests from across the community, the production was hosted at the Ignite Gaming Lounge in Chicago, where top TF2 personalities congregated for a weekend of charity and fun. Through their efforts and with the kindness of the community's hearts, they raised over $200,000 for One Step Camp, nearly double the amount raised the previous year. Once again, it stands as a testament to the generosity of the Team Fortress 2 community.
Challenger on the Horizon
While many games have tried to emulate aspects of TF2 in the past, to varying degrees of success, none have shook fear into the community as that of Blizzard's newest game, Overwatch. Since its announcement back in November 2014, tension had been building up in the community about the new game. It came to a head in late October, when the game finally entered closed beta and community members such as Seagull and b4nny streamed their experiences. Reactions from watchers and players have landed on all sides of the field, but it's obvious that Overwatch has had a drastic effect on TF2's community and will continue to be a formidable competitor.
Reach Expanding
It's undeniable that competitive TF2 has greatly expanded over the course of 2015. The NA 6v6 Newbie Mixes, a group that drafts pickup games with teams of new players and veteran coaches every Friday night, saw its numbers more than double as it expanded its advertising. In addition, sites like teamfortress.tv have expanded their reach by expanding their presence on social media sites like Twitter and Facebook, and new organizations like EVL have begun covering more of the scene. Perhaps the most notable addition of coverage is the new weekly news show, Backcap, which premieres every Sunday on siN's popular YouTube channel. These resources and many more have made competitive TF2 as accessible to new players as ever heading into the new year.
Fall of the Old Guard
Every dynasty must have its end some day, and two powerhouses met their end in November. First came the end of former world champions Epsilon eSports, which had reformed once again to contest the European scene after two years of inactivity. However, this team met hard resistance while doing so, and eventually lost the ETF2L playoffs (branded as #tf2center) to Reason Gaming. They later pulled out of their remaining tournaments, deciding to focus on other games, thus leaving their reign at an unceremonious end. On the other side of the Atlantic, the current world champions froyotech were in trouble, with several members rapidly losing interest in the game. It all came to a head during the ESEA online playoffs, in which the team was knocked down to the lower bracket by perennial rivals Ascent and then lost a very close series to Team SoloUber. Before the night was done, the team had disappeared into the history books. Thus, both continents ushered in a new era with new faces at the top of the scene, and it remains to be seen who will be dominant in the new year.
Return of Long-Lost Traditions
With the help of the organization esportunited, TF2 had a tournament at a DreamHack event for thr first time in six years at DreamHack Winter in November. Four European teams competed in Sweden for their share of a $4,000 prize pool. In the end, recent ETF2L champions Reason Gaming triumphed over newly formed team swedeRage to win the event. This tournament proved to be the capstone of a growing local European LAN scene for the year, and its success opened the possibility for future events held at DreamHack.
Balancing Act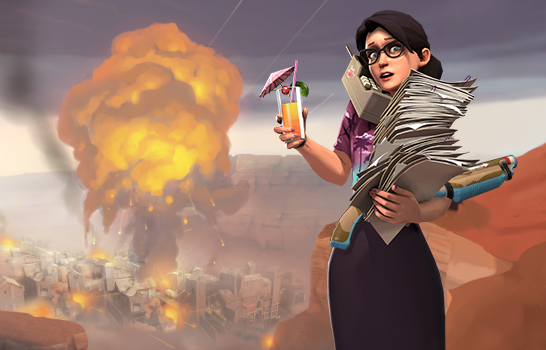 Much like the Gun Mettle update, the Tough Break Update in December was an campaign update flavored with contracts and weapon skins. Of even greater note, however, was the balance patch that came with it, introducing fundamental changes to core mechanics as well as major changes for the Pyro, Demoknight, and Medic. This was the focus of the community's reaction, especially in regards to the changes made to the Pyro, considered by many to be a nerf due to the alteration of popular combo strategies. It remains to be seen how the recent changes will impact the competitive scene, with most leagues on break until after the new year.
Future Calling
Highly anticipated since its announcement in April, competitive matchmaking was finally revealed to the public for the first time in late December by top player b4nny, who had been working with Valve during their early alpha tests. Much of the actual format of the system has not been finalized, but the system itself was shown to be operational. Some of the community's fears about Valve locking down the game were confirmed, but many were assuaged with assurances that Valve would look to preserve many of the customization options present in the game. Currently, the matchmaking beta has been limited to a very small set of participants, but will be expanded soon to include more community members.
Bright Path
It's quite clear that the competitive scene has grown greatly over the course of 2015. As we move forward, it's important to remember how eventful the previous was, and realize how much more exciting the next one can be. There are certainly many things to look forward to - matchmaking, tournaments, leagues, events, services, and more. Let us hope 2016 is as productive as 2015 was.
---
Credits to Jerm, KevinIsPwn, and brooky12 for their contributions to this article. The images used in this article belong to their respective owners, most notably uberchain who designed several of them.